by supershag on Dec.30, 2011, under Buenos Aires, Champagne, Music, Octopus, Salmon, Scallops, Swanky, Wine
Chila is located in Puerto Madero in Buenos Aires. This is the old dock area that has been gentrified and now houses numerous restaurants and boutique hotels.

The restaurant has a modern feel and the ambience is very pleasant .

We were lucky enough to be seated by the window looking onto the dock which is the prime seating area.

The food was good but I felt overpriced. I had a risotto with scallops and shrimp. Very nice but not the generous portion I have been getting used to I'm Argentina.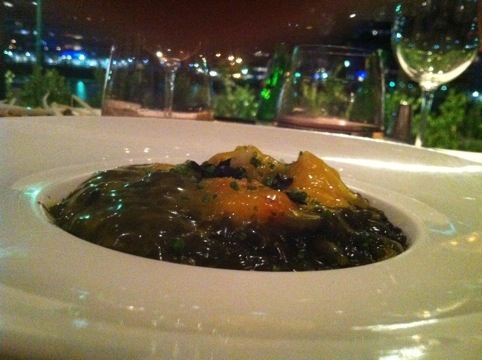 The staff were very helpful but unfortunately we could not get the free Wi-Fi to work. While Chila was not my cup of tea it would be worth a visit for the service and view alone.
To make a reservation

:Argentina, BA, buenos aires, Puerto Madero