by supershag on Dec.28, 2011, under Buenos Aires, Champagne, City, Free Wi-Fi, Happening, Music, Scallops, Sole, Tuna, Wine
Crizia is a seafood restaurant that prides itself on its oysters.I do not go out of my wy to eat them so you will have to visit yourself and decide if they are any good.Luckily enough the menu was full of other good things.
The actual restaurant is very cool and once again seems to have been built in an old car shop.Now while it may not mean much to most people these structures are awful for acoustics.the music was very cool but I just could not hear it.
Any business is only as good as its staff and the bar-tender/waiter here was brill.(that is very good in English).He explained the menu,the drinks and also was brave enough to say that the most expensive item on the menu was not the best in his opinion.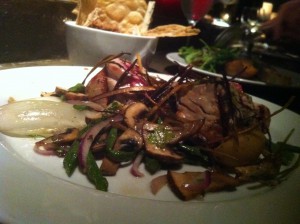 As I am writing this a week after I visited this restaurant I cannot entirely remember the exact composition of this dish but it was very good.
This was the shrimp and scallop erviche and it was really good.While not startling I did enjoy the experience here so I would recommend it.

:Argentina, BA, buenos aires, Palermo Soho