by supershag on Oct.14, 2012, under Boston, Dairy Free, Free Wi-Fi, Gluten Free, Hotels, Irish Coffee, Restaurants, Swanky, Tartar, Vegetarian, Wine

At the time of our dining Zagat rating for this restaurant was 26 (out of 30) we arrived in between meals and had access to the bar menu which did not disappoint.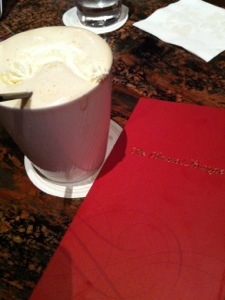 We took up two seats at the end of the bar and quickly made friends with the bar tender, who used to be a wine distributer. We started with an Irish Coffee and a nice Pinot Noir (I forget the name, started with an S and was fantastic!)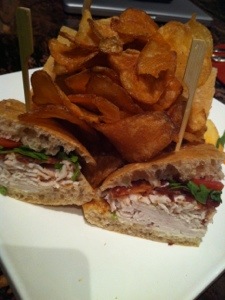 For our meals we had the Turkey BLT with delicious fresh chips (image above) and the Watermelon Salad with Greek Yogurt Sorbet, Feta, Mint, Olive Oil, accompanied by the Tuna Taco which was Chili Marinated Ahi, Guacamole, Pickled Jicama. I was certainly full by the end of it. Important to note the taco's are very small. Also I found it charming that they offer many gluten free options as well as gluten free bread to start!
This restaurant is somewhat of an establishment in Boston, great service, excellent food and a fantastically comfortable atmosphere. Stop into Boston Four Seasons Bristol Lounge at any hour and you won't be disappointed.

:Boston, Boston Common