by supershag on Oct.07, 2012, under Beer, Bellini, Boston, Champagne, Cocktails, Egg Breakfast, Gluten Free, Happening, Mimosa, Music, Parking/Valet, Restaurants, Roof Deck/Patio, Salad, Steak, Swanky, Wine
Woodward is a happening spot for tasty food with an old feel, it is named for a tavern once housed in the Ames family home, Woodward is a modern-day tavern that incorporates local fresh foods and a dynamic beverage selection.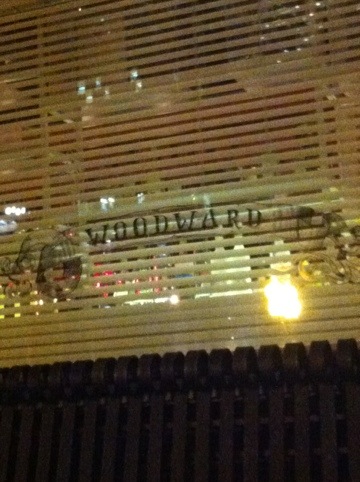 "Located at 1 Court Street and Washington Mall in downtown Boston, the Ames Building was designed by the architectural firm of Shepley, Rutan and Coolidge in Richardsonian Romanesque and paid for by Frederick L. Ames. It is the second tallest masonry load bearing-wall structure in the world, exceeded only by the Monadnock Building in Chicago, completed that same year." (Quoted from Wikipedia)
I started with the Steak Tartar (topped with an egg, not a usual choice for me but the dish was delicious none the less)
The Simple greens salad was topped with pumpkin seeds, cucumber, dill yogurt and a cider vinaigrette, fantastic!
Also at the table we tried the Steamed mussels, pork belly, fennel, garlic and Woodward Ale! Unforgettable!
This is a common stop for us when we have people in town and want to show them a comfortable setting with deluxe food and as dressy as you want to make it. I highly recommend stopping into Woodward at the Ames hotel if you are in Boston.

:Boston, Financial District