Quebec City, QC – Canada
by supershag on Oct.11, 2015, under Allium Allergy, Beer, Canada, Cocktails, Fish, Happening, Quebec City, QC - Canada, Tartar, Wine
Our hotel recommended Le Cercle (The Circle) when we asked for a trendy spot that would accommodate an allium allergy. We decided to walk from our hotel near the water over to Le Cercle, the atmosphere shifted 180 degrees as we progressed further away from the hotel (next time we'll likely take a cab) Once we arrived we had a great time and excellent food the only downside was the meal lasted nearly 3 hours as the waitstaff was pretty slow to come back to our table after we received our entrees. If I had a group to takeout for a few hours that wanted to chat for a few hours over drinks and a meal Le Cercle would be on my list of potential options.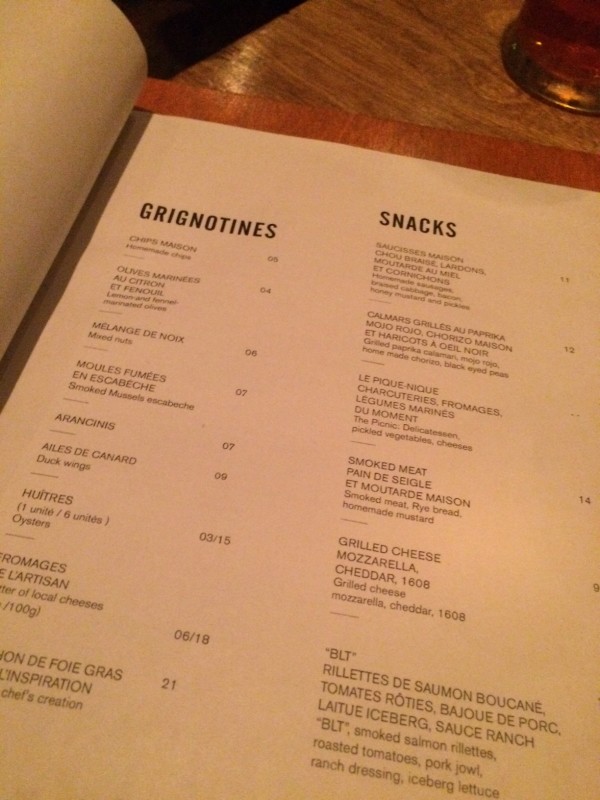 Leave a Comment
more...
by supershag on Oct.10, 2015, under Allium Allergy, Beer, Canada, Chicken Club, Cocktails, Fish, Gluten Free, Quebec City, QC - Canada, Swanky, Wine
After a long day of touring the Island of Orleans and a driving tour of Quebec City we walked up to Le Sam for dinner. The energy in this restaurant is great, a unique mix of dressy and casual depending on the motivation of the customer. They had a customized menu 'for the bee's' paying respect to a very necessary creature! I started the night with a 'Bee's Knees' which was a lavender/gin cocktail and was delicious as well as beautifully garnished!  They customized the maple glazed salmon for me (replaced the polenta with a sweet potato puree) it was one of the best pieces of salmon I have ever had! We also ordered the club sandwich with frites which wasn't on the same level as my salmon but did the job. I had foolishly started the meal with the cheeseboard which was a meal in and of itself that was hard to stop picking at! Checkout the Bistro Le Sam website for more details!
Fairmont Le Château Frontenac
1, rue des Carrières | Quebec City (Québec)  G1R 4P5 | 418 692-3861

Leave a Comment
more...