North Carolina
by supershag on Oct.11, 2015, under Allium Allergy, Charlotte, Cocktails, Fish, North Carolina, Salad, Steak, Swanky, Tartar, United States, Wine
While we were in Charlotte (for the Liverpool match) we stopped into the Ritz-Carlton Charlotte for a bite to eat at BLT Steak and a few cocktails! There was an influx of Liverpool fans through out the city and all the restaurants but that casual crowd didn't get in my way of dressing up for the posh dinner we had planned. Service was exceptional from the point of our arrival through to our departure. We started with cocktails at the bar while our table was being arranged. We passed on the puff pastry with cheese (Chris is not a fan). Dinner was the Tuna Tartar, Alaskan Black Cod for Chris and BLT Steak had no problem accommodating for my allium allergy with my selection of the Lobster Cobb Salad and a baked potato on the side. Chris devoured the Tartar and Cod, speechless with how delicious it was. I too had a delight eating the Lobster Cobb (wish there was a place in Boston that did this!) Checkout BLT Steak at 110 North College Street, Charlotte, NC 28202!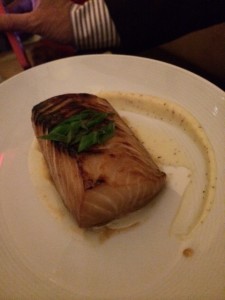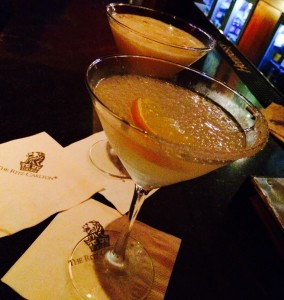 Leave a Comment
more...
by supershag on Oct.11, 2015, under Allium Allergy, Beer, Charlotte, Fish, Happening, North Carolina, Restaurants, Tartar, United States, Wine
5 Church was a fantastic spot for both food and atmosphere! The look and crowd were very trendy at 127 N Tryon St, Suite 8 (Corner of 5th & Church St) Charlotte, NC 28202.
Here is a great 360 view from Google of 5 Church (does it more justice than the photo below)
The theme is black leather, white trees and other funky stuff! The food was deluxe fashionably arranged and full of flavor. They happily accommodated for my allium allergy. The wine/beer list are robust enough for our taste with an interesting mix of a few we wanted to try. I will certainly be back if I have the chance the next time I'm in Charlotte!

Leave a Comment
more...