Tag: Boston Back Bay
by supershag on Oct.13, 2012, under Boston, Sushi, Wine
Douzo does fantastic Sushi in Boston Back Bay, it's an all around convenient lunch spot with a comfy bar space as well as a larger dining area for those not inclined to sit on bar stools! The service is fast and the quality is fantastic for the price. I started with the Shiitake Mushroom soup which was excellent and perfect effort to fight off all those cold germs people keep coughing onto me!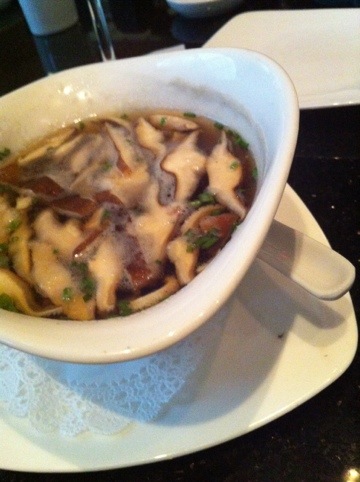 I washed this down with a glass of Cabernet Sauvignon: Joel Gott which also helped warm me up on this cold damp day in Boston.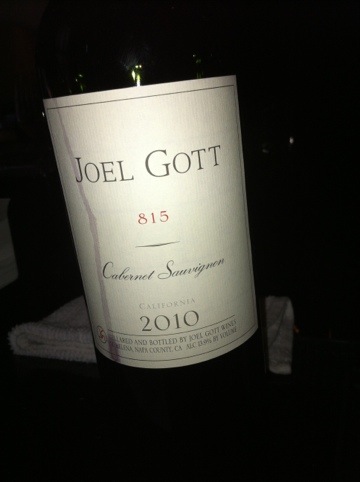 Lunch specials here are great and filling, this was the bento box!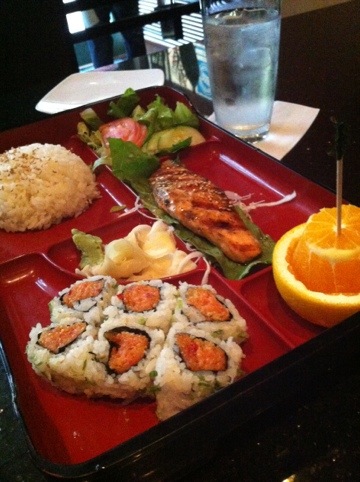 I opted to follow my soup with a nice tuna and avocado role as you can see, they didn't over fill it with rice, which always leaves a smile on my face.
Overall our lunch was delicious and we found ourselves chatting for over an hour as the restaurant buzzed around us, I highly recommend stopping in for lunch, I'll have to try them out for dinner soon.

Leave a Comment
:
Boston Back Bay
more...
by supershag on Oct.12, 2012, under Beer, Boston, Happening, Octopus, Restaurants, Salad, Tartar, Wine
I find this a great spot to take the lunch crowd. They can turn around a table in under an hour complete with drinks, appetizers and main course. The restaurant's decor will ooze onto you an atmosphere much more sophisticated than Joes' American Bar and Grill or Parrish (both in opposite directions of MET) just remind yourself you are going here for a wide option of lunch choices that will all satisfy!
Our lunch started with a Oskar Blues Mama Yella Pils
and a glass of the Girard Petite Syrah (very fruity!)
We followed this with the Octopus Salad appetizer, it had great coconut flavor (not to overpowering) I love avocado, so that is always a hit, however the octopus, was tasting very much like octopus, something I do not look for in a cold appetizer.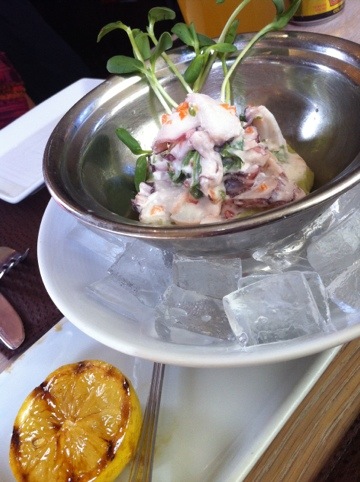 I followed this with the Tuna Nicoise salad, as always this was a great choice, light enough and filling enough for lunch.
My friend had the Micro Chopped salad, I've also had this and as she found it is a little to much to fit in for lunch, especially when you start with an appetizer!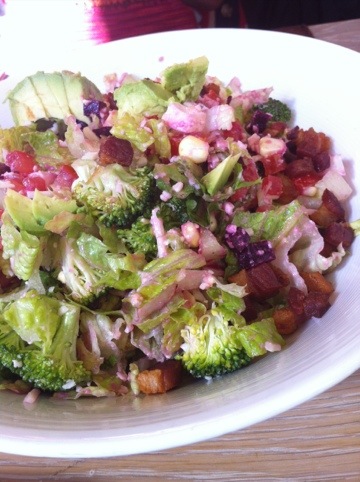 Stop into MET Back Bay for a corporate lunch or dinner party, their service will be sure to please!

Leave a Comment
:
Boston Back Bay
more...